Archive
Journal #9
Journal and poster series.
Published by Archive Books, Berlin
and Project Arts Center, Dublin. 2020.
<http://www.archivejournal.org/current-issue/>


The processual research- and publishing project Peace with the Earth Tracing Agricultural Memory – Refiguring Practice was supported and hosted by various institutions and organisations including: The Irish Seed Savers Association, Scarriff; The National Museum of Country Life, Turlough; The UCD School of Archaeology, Dublin; National College of Art and Design (NCAD), Dublin; An Taisce, The National Trust for Ireland; Environmental Education Unit (Green Flag Award Scheme); Goldsmiths, The University of London; and Archive, Berlin. The publication and pthe postponed exhibition project was funded by The Swedish Arts Grants Committee.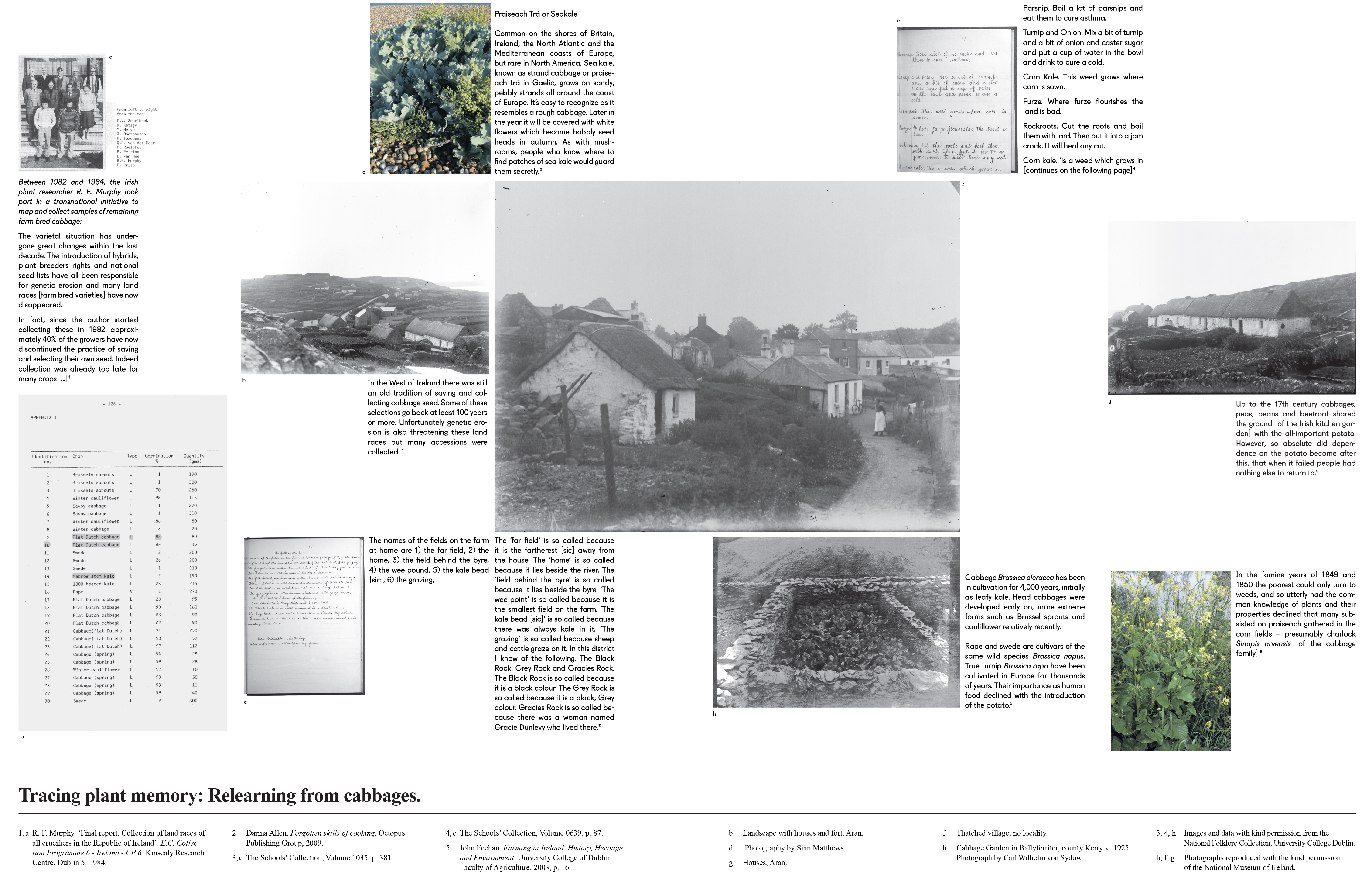 An exhibition of the research and cultivation project presented in this journal, enquiring small scale and non-extractive farming methods, was postponed due to the escalation of Covid-19 contamination. The exhibition was planned to open April 1, 2020, at the Project Arts Centre (PAC) in Dublin, Ireland.

The emergence of Covid-19 is not an isolated incident. Exploitive land use, large-scale animal production and monoculture farming causes great disturbances in the web of organic life, where the increased risk for epidemics is only one of several severe effects. Industrial food production and further multinational, corporative, and extractive activities in habitats is directly linked to outbreaks of dangerous diseases, of which the covid-19 is one of several examples. The epidemic viruses transmit from wildlife as natural habitats decline, as well as they emerge from large-scale animal production.


The distribution of this journal, together with the distribution of kale varieties that are farm-bred and thus have maintained their genetic diversity and capacity to adapt to shifted habitat conditions, did however take place as planned. Seeds of the kales presented on page 12 in this journal can be ordered over the Irish Seed Savers' website. A seed sharing session with talks by Joanne Newton, seed curator at the Irish Seed Savers, and R. E. Murphy, plant scientist and expert in Irish cabbage varieties, will be carried out as a pod cast, to be announced over the PAC website, among other places.



For more information on viruses and agrobusiness, and from which the citation in red colour on page one is borrowed: Rob Wallace. Big Farms Make Big Flu: Dispatches on influenza, Agribusiness, and the Nature of Science. NUY Press, 2016.